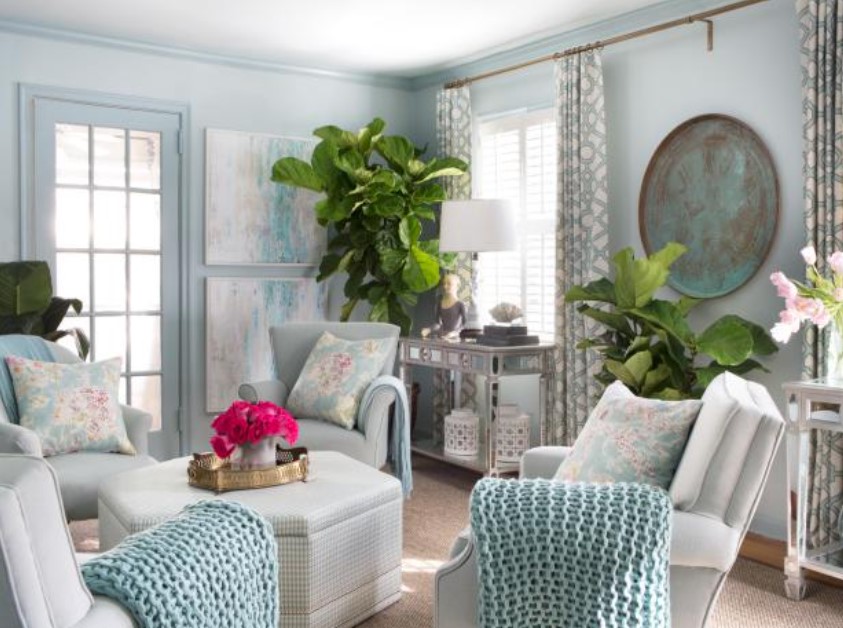 Like many homeowners, you spend hours binge-watching Netflix or entertaining guests and family in the living room. This makes it the most important space in a house. So decorating it should be a priority.
You must remember some fundamentals when decorating your living room, including comfort, entertainment, and budget. With these in mind, you can start with these ideas to make your living space functional and beautiful:
1. Add Lighting Fixtures
Adding beautiful pendant lights to your dining table or living space can have a great effect even when you choose not to update other things.
If you also want a simple way to include glam lighting as well as change the appearance of the space, try adding table lamps or floor lamps for the same effect.
2. Consider Houseplants
Decorating your living room comes with many benefits. They not only produce more oxygen in the room through photosynthesis. They also help to minimize stress levels in the house and may improve your productivity if you have a home office.
Just start small and have your indoor plants delivered. But whether you prefer adding two or many indoor plants in your living space, using them to decorate your space will freshen up the space and uplift your spirit every day.
3. Make the Curtains Hit Your Floor
A great window treatment may add a luxe factor instantly to a living room. No wonder it is among the best decorating ideas for living rooms.
However, there is one major rule – don't buy too short draperies. They look store-bought and cheap. So ensure you measure your windows before going to the store.
By taking it to the tailor, you may also make your own sheer with a lightweight cotton fabric. This way, you will have a beautiful drape for not more than $35.
4. Add Wall Accessories and Art
No décor for living rooms can be complete without wall accessories and art. Don't go crazy by thinking that all the inches of your living room should be filled. An empty space is important in ensuring you design a comfortable space. This helps to provide a place to put other things, including wall accessories and art, such as mirrors, pillows, decorative items, and blankets.
Choosing the right artwork that matches your living room is a challenge. But considering the overall theme will greatly help when choosing wall art and accessories.
5. Choose Comfortable and Stylish Flooring
Living rooms are public spaces. This is why it is best to choose flooring, which can provide comfortable underfoot and make a design statement.
If you like less bold flooring, consider choosing a solid neutral floor that matches your art and furniture. Hardwood flooring with some area rugs is also a popular option for living rooms.
The Bottom Line!
If you are looking to make a living space feel like yours, it will be best to add personality to it. The key goal is to let go of the idea that living rooms must look the same. Instead, think of what will make your living space unique by personalizing your décor.
Related Posts